Rob Fusari, a songwriter, music producer and ex-boyfriend of Lady Gaga, is suing the singer for $30.5 million, claiming she owes him that much in royalties.
He filed his lawsuit in a Manhattan court on Wednesday.
In court papers, Fusari describes how he took notice of the quirky singer and "saw a star" when she first sang in his New Jersey studio back in March 2006.
Fusari says that over the course of several months, he worked with her daily and "radically reshaped her approach," co-writing some songs on her album.
"Paparazzi" and "Beautiful Dirty Rich" are among those songs he claims he worked on, and, he says even suggested she adapt the stage name Lady Gaga.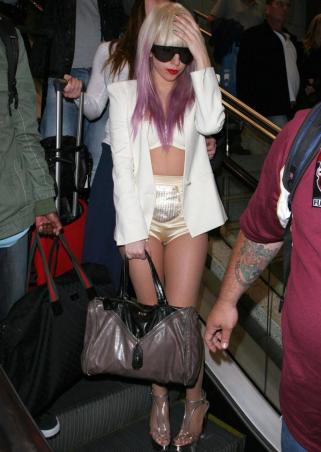 Can Rob Fusari claim credit for those panties too?
The pop star herself claimed in a 2009 interview that she came up with the Lady Gaga persona about "five years ago, but Gaga's always been who I am."
The collaborators became romantic around May 2006 and created a joint business venture to promote her, in which Fusari would get 20 percent of profits.
He says he scored her a record deal with Universal Music Group's Interscope Records, and as a result, The Fame has sold over three million records to date.
He did not claim credit for planting the hermaphrodite rumors.
Although Fusari has a producing credit on the Grammy-winning album, he says he's owned 20 percent of song royalties and 15 from merchandising revenue.
"All business is personal," the filing by the producer reads, noting that his business relationship with Gaga deteriorated after their personal one fell apart.