---
Mindvalley Labs | Using Your Success Stories Effectively For Public Relations
Most Internet-based businesses have TONS of testimonials sitting in their databases… and these testimonials have no other purpose but to be featured in their sales letters. But how many people actually read sales letters? The more sales-y a page is, the odds are against a person actually reading it. So here's a simple, but pretty wild idea
(Published: Fri, 19 Mar 2010 05:16:29 +0000)
---
Marketing pilgrim | Microsoft Yahoo Search Deal Passes Regulatory Hurdle
Well, it's official. The partnership which will lead to the blending of the "other search engines" Yahoo and bing, has been given the government seal of approval by both the US Department of Justice and the European Commission. The integration of the two engines will be started immediately and it will take until 2011 before the
(Published: Fri, 19 Feb 2010 09:28:58 +0000)
---
Loony | Legal Practice Course – Law Revision Notes
I completed my LPC / Legal Practice Course at College of Law in Bloomsbury in 2009. I have a few friends who are doing the course now and the big exams namely Litigation, Business and Property law are now coming up very soon. Now as my friends before me passed me their LPC notes, I passed
(Published: Fri, 15 Jan 2010 13:57:09 +0000)
---
Advertising Age Best Ads | Rethink Breast Cancer: Boobyball
CP+B Toronto caused quite a stir at lunchtime when it unveiled its stunt for Rethink Breast Cancer. The agency wrote headlines and facts on women's breasts to fuel conversation about the disease. Many of the models were actual breast cancer survivors. The stunt, which was pulled off in some rather frigid weather, certainly impressed at least one person. Howie Mandel, who was walking by, tweeted it to his thousands of followers -- and took a picture to boot. The event was to promote Rethink Breast Cancer's annual fundraising event, Boobyball.
(Published: Wed, 05 Oct 2011 00:00:00 -0400)
---
Real Web Marketing Blog | Internet Marketing into the New Decade
by John Eberhard
From my perspective as a former full time musician I used to be oriented to music by the name of the decade it came from; the 50s, the 60s, the 70s, the 80s, the 90s, and so on. Here we are coming to a close of the first decade of the new millennium and there has not even been a widely accepted name for it yet. I heard a reference to the decade recently as the "oughts." We'll see if that one sticks.
Timothy Noah, on Slate.com, stated at the end of 2004: "The most logical candidate is a term often used to describe the first decade of the 20th century: the "aughts." But despite heavy promotion from journalists and others, it's never caught on."
Five years on, and still no name for the decade. Oh well.
I've made it a habit over the last few years to name what I thought would be the most important Internet marketing strategies for the coming year.
Here's what I said for the most important strategies for the beginning of 2008:
a. Pay-Per-Click Search Engine Advertising
b. Article Directories / Content Hubs
c. Optimized Press Releases
d. SEO (Search Engine Optimization) Actions Done to a Web Site
e. Email Marketing
f. Banner Ads
g. Web 2.0
Here's what I said for the most important strategies for the beginning of 2009:
a. Pay-Per-Click Search Engine Advertising
b. Blogs
c. Online PR
d. Social Media
e. Video and Audio on Sites and Blogs
f. Article Directories / Content Hubs
Interestingly, in an industry that thrives on change, there was not a lot of change from 08 to 09. Certainly banner ads are not a major force anymore. Article directories are less of a force than they were a couple years ago but are still very effective. Blogs and online PR are still very effective. Social media has become a more dominant force in online marketing in 2009.
My Website Marketing Picks for 2010
As we prepare to enter the new decade (which we assume will be called the "Teens") here is my prediction for the best website marketing strategies for the next year.
a. Pay Per Click Advertising: PPC is still a very dominant force and very effective, though its use is pretty much limited to high ticket items because of its cost. I was concerned a couple of years ago because of the multitude of companies that had begun using PPC and the resultant rise in bids and higher cost per click. I suspected that either the competition would have a self-normalling effect, driving some players out of the market and cost per click prices would fall somewhat, or the high costs would make the medium irrelevant eventually. Happily the former has occurred. PPC is an excellent way to drive traffic to your site on an immediate basis, and due to the excellent statistical and monitoring tools, in skilled hands it can be very effective. It's just not viable for selling books and CDs.
b. Social Media: I have a friend who was bugging me to get into social media a couple years ago when I was reluctant, and he loses no opportunity to remind me of it when the topic comes up. Facebook is the #3 site in November according to Compete.com with 128 million unique visitors. YouTube is #4 with 85 million visitors. Twitter is #43 with 22 million visitors. True enough, social media has become a dominant force in website marketing, as long as you know how to use it. This means developing lots of friends/followers/connections, then sprinkling your marketing message into the conversation in a tasteful, non-offensive way. Shouts of "buy my stuff," "buy my stuff," "buy my stuff" at every opportunity will not work, because people can easily sever their connection to you and will. For my business I find it works to post several things a day saying what I am doing, such as "I am working on designing a new web site for a veterinarian," or "I am ghost writing an article for a client." It's not obnoxious (at least I hope not) and it regularly reminds people of who I am and what I do. And I get business from Facebook and Twitter.
c. Single Dissemination Points Out to Multiple Sites: I believe that one of the primary essences of marketing is to have one message and to send it out as broadly as possible, without having to initiate the communication over and over again yourself. For this reason I really like sites that allow you to put out one communication one time, and have it go out to multiple places. I use Ping.fm to type in short communications (140 characters which is the Twitter limit) and I have it configured to post the message to Facebook, Twitter, LinkedIn, MySpace, Plaxo, and several other sites. So every time I post an update it goes out to 11 sites and to all my friends on those sites. I use Posterous.com for posting longer communications to my blogs, and I have it configured so it goes out to my blogs on Typepad, Wordpress.com, Blogger.com and several other blog sites.
d. Keyword Research: I think keyword research is vital to do at the beginning of your website marketing efforts. The reason is because search engines base all their ranking on keywords. You do not just rank well or poorly on a search engine. You rank well or poorly for specific keywords. And it does practically no good to rank well for a keyword that no one searches for. But at the same time, if you think you are going to be able to rank well for general, single word, category keywords like "golf," "computers," "furniture," or "mp3," I'm afraid that just isn't going to happen. There is way too much competition for those keywords. So the key is to find keywords that have decent traffic but not a jillion sites competing for them. Then work those golden nugget keywords into your strategy for blogs, online PR, social media, article marketing and so on.
e. Email Marketing: I first got into email marketing when it was a newfangled thing back in 1998-99, and made millions with it for the company I was working for at the time. Unfortunately a few years after that saw "the deluge." By that I mean the flood of mostly small businesses flooding cyberspace with their sales emails promoting stock picks, male enhancement products, printer toner cartridges, and a host of other products. And most engaged in tactics that were considered unethical then and are against the law now, such as not removing you if you asked, using deceptive subject lines and so on. My observation is this killed the market for rented email lists. But what does still work today and work well, is developing an in-house email list of customers and prospects who inquire about your products and services, and emailing to them regularly. It works great for selling your products. Just comply with the CAN-SPAM Act.
f. Blogs: I have written extensively about the effectiveness of blogs (some have kidded me about how much). I still believe that they are one of the best things you can do. Blog on Macduff.
g. Online PR: Optimized press releases, containing your target keywords that you found when you did keyword research and submitted to online PR sites, are very effective in building quality links to your website. These links also rank very well in the search engines.
h. Article Directories: I think article directories have become the ugly stepchild of Internet marketing in the last year, because no one in the SEO community talks about them (they rarely ever did for reasons unknown) and the number of directories have dropped off. But I do this for my own sites and for several clients and it still works like gangbusters in developing quantity links.
That's it. Best wishes for 2010 and may you have the most prosperous year yet. Remember, if you market yourself properly, you can overcome all this "economic uncertainty" and together we will.
(Published: Tue, 29 Dec 2009 13:19:09 -0800)
---
Seth Godin Blog | "But what if it works?"
Dr. Dre licensed his name for a line of headphones. I have no idea how much his royalty is, but figure it's $20 a pair.
At some point during the negotiations, perhaps someone said, "wait a minute! What if it's a hit? What if we sell more high-end headphones than anyone has ever sold, ever, and we sell 5,000,000 pairs. That means that he'll get a hundred million dollars. That's absurd! We need to put a limit on this."
We often hesitate to pay a portion of the upside to someone who is taking a risk, because we're worried that perhaps, just perhaps, his risk will pay off and he'll make a fortune
(Published: Fri, 16 Sep 2011 03:45:10 -0700)
---
Inside Affiliate | The Secret To Getting Killer CTR
Let's face it: Click Through Rate (CTR) can either make or break your campaign. Whether you are doing PPC, PPV, or especially with CPM & Media Buys, your CTR is often the determining factor in whether you make money or not. Since this is the case, it never ceases to amaze me how many affiliates (myself included) forget to put hard work and thought into the #1 thing that affects your CTR: your ad copy.
Putting together a campaign usually goes something like this:
Spend several hours doing niche research
Spend a couple of hours finding the best keywords
Spend a few more hours creating your landing page
Ready to launch!
Oh wait, I have to put some ads up here… I'll just copy & paste what the other guys or doing, or just throw in some text off the top of my head
And then you wonder why nobody is clicking through to see your awesomely designed landing page and your super-targeted offer… Guess what?  Ad copy has a massively huge part to play in your campaign's success. Coming up with consistently killer ad copy and images is probably the most important skill you can have as a marketer. If you can't do that, then what can you really do? Copy campaigns? Put tracking together? Load keywords into Google? That's great, but that could all be outsourced to a monkey.
The real value that affiliates bring to the table is in our creative approach to campaigns and ad copy. You think that the company whose service or product you are promoting hasn't tried direct-linking their website on the major search engines for their primary keywords? They have. They either have that on lock and therefore have those keywords blacklisted from you, or it doesn't work and they turned to CPA Networks and Affiliates to think outside the box and get them leads from sources that they don't know about or don't understand well enough to do themselves.
Take some time to educate yourself on the basics of sales, marketing and advertising. All of the knowledge you can get from studying the fundamentals will go straight to your ad copy, and your CTR.  Even if some of the principles were created for print advertising, it still applies online. I don't care if it seems like homework. If you want this to be a serious business for you then you need to treat it like one.  Read some books on marketing & advertising. There are literally thousands of them written. You will not regret the time you put into bettering yourself as a marketer.
Here are a few of my favorites to get you started (not affiliate links):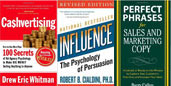 Related posts:
(Published: Tue, 13 Apr 2010 10:45:36 -0700)
---
Power Social Media Marketing Strategies | Social Media Marketing the Anti-Social Approach
Do you like hanging out on Twitter or Facebook working endless hours to attract new business prospects? Do you like "hangin out" and letting people know every intimiate detail of your life? Do you like making small talk with hundreds of people every day in hope that some of them will filter into your sales funnel somehow? There
(Published: Fri, 24 Jul 2009 17:24:11 +0000)
---
Inside Facebook | Facebook Employee Count Rising this Year, Up Past 1300 Already
Facebook already has more than 1000 employees, and it said it plans to increase that by at least 50% this year, according to previous reports. That number has been growing fast, from what we've gathered. It is now past 1300, according to sources, although Facebook is only confirming that it is above 1200. We heard
(Published: Sat, 20 Mar 2010 01:10:02 +0000)
---
Internet Marketing with Kirtok | Frequency or Individual User Cap for CPM & CPV
Optimization is a key factor in success for internet marketing campaigns. There are so many variables needed to be tested until a campaign is fully tested & optimized. One of these variables is frequency capping or also called as individual user capping. If you are new to media buying, or CPV Marketing, you have to understand
(Published: Fri, 19 Mar 2010 12:15:29 +0000)
---
How to Market a Book | Book Internet Marketing is Easy with Blogs
Book Internet Marketing is Easy with Blogs
You are about to learn how an effective linking program via blog posts and back links can be easily integrated into your online book marketing campaign. Back links are links directing blog readers to your website. Even though blog back links are not as highly rated as other web page links (because of abusive link spamming techniques by bad online marketers) Google still indexes them and so they are worth pursuing within your marketing niche. But be aware that many blog links come with a "no follow" follow" tag, which tells the search engine spider not to link back to you. You can still find blogs in your marketing niche that do not use this tag by following these three steps:
Tip #1:Conduct a search at blogsearch.google.com for: "your keyword phrase" + "do follow"
This search will identify the blogs that do not use the "no follow" tag. If the search produces no results, use broader keywords. For example, if your niche is book marketing, and "book branding tips for people in Tampa" did not return any results, try "book branding" and then "book marketing tips."
Tip #2: Use the Firefox browser and the free plug-in that will highlight in red blogs that use the "no follow" tag.
With the installation of a free plug-in, the Firefox browser will highlight all "no follow"
blogs in red. And this plug-in will also identify the page rank value of every blog. Start at the top because higher PRs mean higher index value for each back link.
Tip #3: Visit Comment Hunt, a "Do Follow" Blog Directory
Comment Hunt is an incredible book marketing research tool:
Links you to FollowList.com where posting comments by topic is free.
Allows you to search for "do follow" blogs by keyword.
And, you can add your blog to the directory. Courtneytitle.com., a site that provides links to 200 "do follow" blogs where you can post comments.
Gives you the option to purchase comments.
Lists popular and active "do follow" blogs.
How to Select a Blog for Posting
Even if you post to "no follow" blogs, not every blog is equally effective. Every blog that you post to must:
Be current.
Have a page rank higher than "0."
Have an active comments section.
Tips for Posting Comments
Show yourself as the expert you are by adding information of value to the blog post.
Blogs use your name and URL as anchor text, so when it's time to sign the comment, use a keyword phrase (not your name) with your URL. However, do use a long-tail keyword phrase (three-four words) that is relevant to the post and then add a link to a relevant article on your website. For example, end your comment by saying: "I've written more on: . I trust that you'll find it useful." This little-used strategy provides high-ranking back links by providing relevant and current content. Don't forget, though, that your comment links need to use the
clickable. Finally, to supercharge your online book marketing, establish yourself as an expert and keep your comments from being deleted by blog moderators, offer highly useful content and back links.
More book marketing tips are available from the award-winning author, V. Michael Santoro ,creator of the AuthorInterns.com online book marketing system, an easy-to-follow program helping authors promote their books by utilizing the services of student interns. More book promotion tips await you in Michael's free book marketing training course.
(Published: Mon, 15 Feb 2010 15:46:34 -0800)
---
Market Activator - Position Your Business To Attract More Clients | Using Video To Boost Your Marketing Efforts
Using Video to boost your business marketing efforts is becoming more and more important. In a recent article in the New York times it states that online ads are booming when they are associated with video, with alot of the new websites starting to look like television rather then newspapers.
Video is being featured more promptly on the likes of CNN.com and ESPN.com, with video even becoming more prominent with the likes of Wall Street Journal.
Other key matters mentioned in the article include:
People (i.e. your consumers) are using the internet in a different way now.
With broadband penetration becoming ubiquitous and more and more sites having this easy capability, people are expecting video to be there.
The growth in video consumption has spurred investment and interest in video production.
Among Web sites operated by newspapers, The New York Times, Gannett and Tribune each reach more than a million viewers a month with video streams.
Beyond news sites, video is now the fastest-growing segment of the Internet advertising market. Digital video amounted to $477 million in revenue in the first half of 2009, up 38 percent from the same time period in 2008, according to the Interactive Advertising Bureau.
In the five-year outlook it released last month, eMarketer said that video ads would be the "main channel" for major advertisers seeking to increase their online spending. Already, ads for companies like Johnson & Johnson and Unilever pop up often on sites like MSNBC.com.
Web executives say some clients think of online video as an extension of TV, and others think of it as an enhancement — one that allows for interactive messages and instant feedback from viewers.
So don't get left behind, and be sure to start using (online) video to promote your business!

Post from: market activator Share this Page
(Published: Mon, 15 Feb 2010 16:48:23 -0800)
---
Marketing Definitions | Definition of CRM Marketing
Customer relationship management (CRM) marketing makes use of tools and techniques for creating new, or fostering existing, relationships between a customer and supplier which ultimately derive mutual`benefit. Typically the CRM component is a piece of technology, usually software which can be run on a single PC or hosted on a server either internally or remotely from
(Published: Sun, 13 Dec 2009 21:44:00 +0000)
---
SeoWorld | What Jeffrey Hayzlett *Really* Thinks About Social Media and Entrepreneurship
I recently sat down with Jeffrey Hayzlett, the ex-CMO of Kodak. We had met earlier this year at another big social media event, but I finally was able to get him to reveal details of his inner secrets. This included more thoughts on running your own business, leveraging social media and what it takes to "make
(Published: Thu, 16 Sep 2010 18:36:10 +0000)
---
Internet and Affiliate Marketing News | WordPress Spire Sales Page Theme
I promote a lot of other people's products through Clickbank and wanted a way to do it without using an actual WordPress blog theme.. so I done some searching and found a couple products that done exactly that, so I bought both to see which was better. The first was WordPress
(Published: Mon, 01 Mar 2010 07:35:41 -0800)
---
| Marketing | Steven Covey Releases Guide To Highly Effective Websites
Inside his #1 greatest seller, "The 7 Habits of Highly Effective People," Stephen R. Covey introduced a new platform regarding individual effectiveness. The actual identical actions can easily be useful to your own web site in order to harness their particular power as well as increase the website's effectiveness. Habit 1: Be Proactive Proactive individuals utilize their
(Published: Wed, 10 Mar 2010 07:20:10 +0000)
---
Finest Mlm Promoting For Network marketing Success | Business Promotion Using Video Marketing
Tips For Business Promotion Using Video Marketing   One of the most underutilized forms of marketing on the web is video marketing. Although it is gaining some amount of prominence in the last few years, very few people know how to properly use it for business promotions. Regardless of the type of business that you have, or what you are trying to achieve, the use of video has many positive benefits that will help virtually any business achieve top rankings and more visitors throughout the y […]
(Published: Wed, 05 Nov 2014 18:26:36 +0000)
---
All About Marketing Our Business | Start Here Page
Have you got a website or a blog? Have you ever considered having a start here page so that your readers know what to read first to learn all about you and what you do or offer. It's like having a traffic cop showing your customers and readers what to do next in order to
(Published: Mon, 02 May 2016 14:19:37 +0000)
---
Digital Marketing | Advertising Agency | Prediction on the future marketing
A
marketing agency in Ahmedabad
could do a mixture of things depending on their specialty ranging from brand identity, creating your website; some paid advertising may be helped with events and other ways to get the word out. An advertising agency focuses on media attention. This used to be restricted to pitching traditional media articles, locations, etc. We may be completely blindsided by a new technology that brings us even closer to that marketing sweet-spot of connecting with buyers and persuading them to act. And then the social and creative web started to become main stream and the game has completely changed. Things are smarter, faster and cheaper as opposed to dumber, slower and expensive. Nowadays they're amazing do-it-yourself tools that entrepreneurs, big brands and all nodes can utilize if they so prefer. And here is the very weird thing the difference between people having success or not-so-much-success is actually rather low. Adolic media is one of the most respected
digital marketing
means to handle their digital relationship and deliver the proper marketing to their customers across email, mobile, social, display and the web.
Our customer gain competitive advantage through the automation, individualization and co ordination of cross-channel marketing interaction at massive scale. These things deliver much more value, brand awareness, back links and discussion than a simple social share – and in a marketing channel that's already overcrowded, these instruments represent a chance for opportunistic businesses to approach customers from a younger and more helpful. Our company believes more and more marketing teams will get the time to properly engage their customers based on not only their position in the sale funnel, but their private needs and outlook.
(Published: Thu, 04 Sep 2014 04:22:50 -0700)
---