Let's face it: Click Through Rate (CTR) can either make or break your campaign. Whether you are doing PPC, PPV, or especially with CPM & Media Buys, your CTR is often the determining factor in whether you make money or not. Since this is the case, it never ceases to amaze me how many affiliates (myself included) forget to put hard work and thought into the #1 thing that affects your CTR: your ad copy.
Putting together a campaign usually goes something like this:
Spend several hours doing niche research
Spend a couple of hours finding the best keywords
Spend a few more hours creating your landing page
Ready to launch!
Oh wait, I have to put some ads up here… I'll just copy & paste what the other guys or doing, or just throw in some text off the top of my head
And then you wonder why nobody is clicking through to see your awesomely designed landing page and your super-targeted offer… Guess what?  Ad copy has a massively huge part to play in your campaign's success. Coming up with consistently killer ad copy and images is probably the most important skill you can have as a marketer. If you can't do that, then what can you really do? Copy campaigns? Put tracking together? Load keywords into Google? That's great, but that could all be outsourced to a monkey.
The real value that affiliates bring to the table is in our creative approach to campaigns and ad copy. You think that the company whose service or product you are promoting hasn't tried direct-linking their website on the major search engines for their primary keywords? They have. They either have that on lock and therefore have those keywords blacklisted from you, or it doesn't work and they turned to CPA Networks and Affiliates to think outside the box and get them leads from sources that they don't know about or don't understand well enough to do themselves.
Take some time to educate yourself on the basics of sales, marketing and advertising. All of the knowledge you can get from studying the fundamentals will go straight to your ad copy, and your CTR.  Even if some of the principles were created for print advertising, it still applies online. I don't care if it seems like homework. If you want this to be a serious business for you then you need to treat it like one.  Read some books on marketing & advertising. There are literally thousands of them written. You will not regret the time you put into bettering yourself as a marketer.
Here are a few of my favorites to get you started (not affiliate links):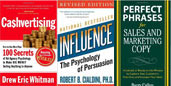 Related posts: